Michelle Kwan had been mentioning a comeback recently with little conviction, but this announcement will get people talking about it as a real possibility:
Five-time world champion Michelle Kwan will join Kim Yu-na at Ice All Stars 2009.

IB Sports, Kim's agency, announced Thursday that the American star figure skater has confirmed her participation in the ice show, scheduled to take place from Aug. 14 to 16 in Seoul.

It will be Kwan's first action since she quit the sport due to a hip injury in 2006.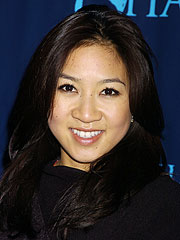 All I have to say to this is...wow. This seems to be a literal message from Kwan that she is ready to get back on the ice and take on the best; I'll believe an actual competitive comeback when I see it but this seems like a logical starting point. Maybe she'll take that TBA spot at Skate America, maybe not. In my opinion, Kwan, as 9-time National champion, has "had her time"; her career was one of the most impressive of any skater in history, but I believe it will be difficult to her to keep up with the younger skaters, though inevitably Kwan has the dubious advantage of extensive experience on her side. However, I believe she should be pleased with her lot and give others, who have been solidly training and competing in the seasons up to these Olympics, their chance to shine.
I might not be pro a Kwan return but you can guarantee many other skating fans will. This is a show that fans will be stoked about, to say the least, - on internet forums many people seem to be prepared to fly from America just to see this, at obviously considerable expense!
Aside from Kwan's appearance, it's going to be a fanatastic show anyway:
American Evan Lysacek, Jeffrey Buttle of Canada and Switzerland's Stephane Lambiel, who have won each of the men's singles titles over the last four World Championships, will perform along with world silver medallist Joannie Rochette of Canada and Turin Olympic winner Shizuka Arakawa of Japan.
What are your thoughts? Comment below. Full article is available
here
.